How Bishop Oyedepo's Book Moved Me From ₦5 to ₦50,000 in 14 Days
Back in 2008, I remember there was a time when all I had to my name was ₦5 only.
Yes. Five Naira.
And I carefully hid it inside my Bible.
Believe it or not, that was all I had for about 3 months.
In order to eat, I would hang out with some of my neighbours that I had turned to friends (just to be get benefits like getting food to eat)
But one day, I came across a book by Bishop David Oyedepo.
It was a small book titled:
"If you can think enough, what you have is enough"
I read the book and it changed my life.
For the first time, I began to understand how to think strategically and get yourself out of any situation you are in - especially financial situation.
So, I followed what the Bishop taught in the book.
Here is an example.
It is important that you understand that apart from money, there are other resources you have that you can use to move your life forward.
Sit down with a clean sheet of paper and write them down.
E.g. What skills do you have?
What talents do you have?
What special networks do you have?
What material things do you have that you can sell?
What physical attributes do you have?
Once you have listed all these down, the next thing to do is to simply think of how you can utilize any of those things to move forward.
But you need to think deeply here using a pen and paper.
Once you are through, look at the best ideas that come up and begin to work on them immediately.
When I did this exercise, even though I thought all I had was N5, the book helped uncover other resources that I didn't know I had.
2 weeks later, I had ₦50,000 in the bank and my life began to change from that moment onwards.
The truth is, our creator gave us our brains to help us solve many of our life problems but most people do not know how to think strategically and this limits what they can achieve in life.
Whenever you think you are stuck in life or you are not making as much money as you want to make, I can assure you that if you make use of your brain to think strategically, your life will improve.
Up till today, I still use these thinking strategies anytime I feel stuck, need ideas or need to get ahead
with my life and business
Most people do not use these thinking strategies and that is one of the main reasons why many find it difficult to get ahead in their life and business.
Make it a decision to use your brain more efficiently from now on.
May God help us all?.
PS: Toyin Omotoso is the author of the unusual book
"How to Turn Yourself Into a Live Breathing Cash Machine" that has transformed a lot of lives.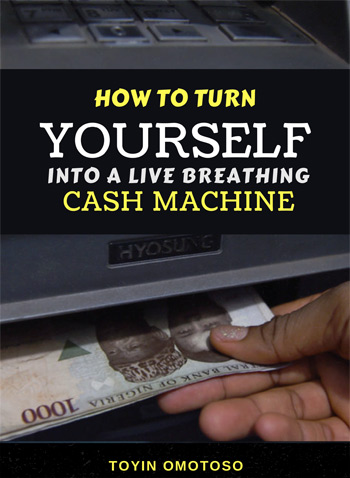 Related: How to Beat 9-5 Jobs and create authority Online Business. Start Here.